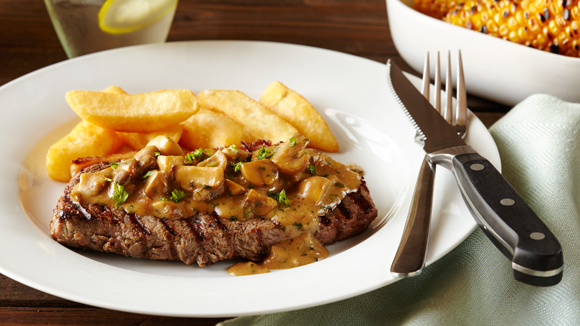 Steak Diane
Mushrooms, brandy, cream and Worcestershire sauce make the base of this classic steak dish served in a creamy sauce. Steak Diane is an absolute classic dish that the whole family will love! Use Knorr Beef Stock Pot to greatly enhance the flavour of this dish.
Recipe serves

4

Preparation time

10 minutes

Cooking time

10 minutes
Ingredients
15 ml vegetable oil
4 x rump or Porterhouse steaks (200-225 g each)
2 small onions, chopped finely
15 ml Stork Margarine
120 g button mushrooms, quartered
2 cloves garlic, crushed
10 ml Worcestershire sauce
15 ml Maille Dijon Mustard
30 ml brandy
120 ml water
1 Knorr Beef Stock Pot
250 ml cream
15 ml chopped parsley
Method
Remove the fat from the steaks, roll them out to make them a little thinner.
Heat the oil in a large heavy based frying pan over medium-high heat. Fry steaks for 2 minutes on each side, remove from pan and set aside.
In the same pan add the onion and Stork Margarine, stirring for 3 minutes over medium heat. Add mushrooms and garlic. Cook on medium heat for further 2 minutes then add Worcestershire sauce and Maille Dijon Mustard, stir well for 1-2 minutes.
Turn the heat up and pour the brandy into the front edge of the pan. If using a gas stove top let the flame catch the brandy's vapours and ignite, otherwise ignite a wooden skewer using a lighter and use this to light the brandy vapours – make sure you keep well away from the flame and there are no flammable materials nearby. Swirl slightly, then turn the heat down. Once the flames have subsided, add the water and KNORR Beef Stock Pot. Once the stock pot has melted and the sauce is hot again add the cream, stir in well over medium heat for 2 minutes. Add parsley and serve immediately.