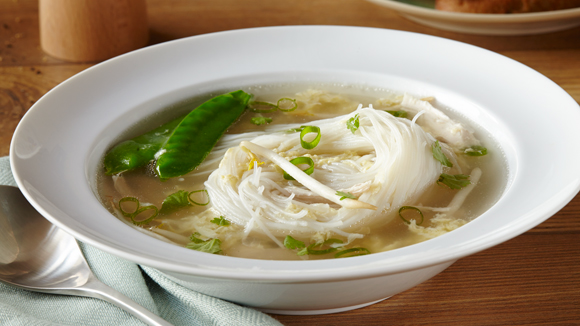 Egg Drop Soup
Our egg drop soup recipe is bursting with flavour and fresh ingredients. An excellent idea for when wanting to experiment with something new.
Recipe serves

4

Preparation time

10 minutes

Cooking time

75 minutes
Ingredients
2.5 ltr water
Half a chicken (around 750 g)
1 Knorr Chicken Stock Pot
2 leeks, roughly chopped
2 onions, roughly chopped
2 celery sticks, roughly chopped
1 sprig rosemary
1 Robertsons Bay Leaf
50 g vermicelli noodles
15 ml corn flour
4 eggs, beaten
4 spring onions, sliced
Method
Place water and chicken in large saucepan. Boil for 15 minutes. Reduce heat, add Knorr Chicken Stock Pot and simmer for 25 minutes.
Add the leeks, onions, celery, rosemary and bay leaf. Bring to the boil and simmer for another 30 minutes.
Remove the chicken from the pan and shred.
Strain the broth and return liquid to the pan together with the shredded chicken.
Bring the broth to the boil then turn to low heat.
Add the vermicelli noodles, cook on low heat for 2-3 minutes.
Take out some of the liquid, mix it with the corn flour and add back to thicken slightly. Let the broth simmer for 2-3 minutes until starchy taste is gone.
Take heat right down. Gently and slowly pour in the eggs through the fork, stirring the broth so the eggs are mixed through evenly. Pour into bowls, add spring onion and serve immediately.
TIP: Add some crushed ginger with the noodles for a super fresh taste.