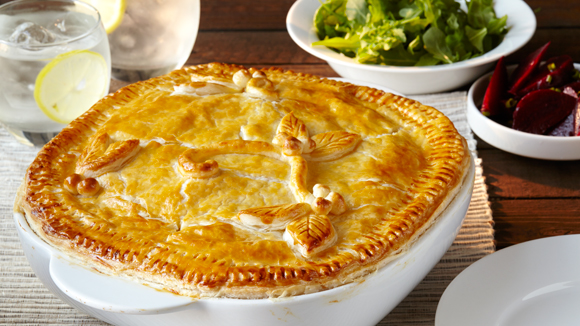 Chicken Pot Pie
A tasty chicken pot pie is a force to be reckoned with! This perfect weeknight dinner recipe is ideal for busy families with kids.
Recipe serves

4

Preparation time

20 minutes

Cooking time

25 minutes
Ingredients
4 boneless, skinless chicken breasts, cut into cubes
15 ml extra-virgin olive oil
2 sprigs fresh rosemary, stalks removed
2 cloves garlic, crushed
¼ tsp freshly ground white pepper
500 ml water
3 small carrots, peeled and finely chopped
6 stalks celery, finely chopped
8 baby onions
1 Knorr Chicken Stock Pot
1 Knorr Vegetable Stock Pot
15 ml cream
1 roll refrigerated pie pastry, rolled out lightly
1 egg, beaten
Corn flour
Method
Preheat your oven to 200°C.
Marinate chicken in olive oil, garlic, rosemary and white pepper for 15 minutes.
Meanwhile, bring water to the boil and add Knorr Vegetable Stock Pot, carrots, celery and onions and cook for 2 minutes. Strain out vegetables, reserve vegetable liquid.
Re-heat reserved vegetable liquid, add Knorr Chicken Stock Pot and simmer. Thicken by mixing a little corn flour with some water to form a smooth paste then stir into the stock.
Stir in cream, chicken and the strained vegetables. Simmer over medium heat until slightly thickened, about 2 minutes.
Brush edges of pie plate with egg. Turn mixture into pie plate, then top with crust; pressing edges to seal. Brush top with egg, then slit.
Bake 20 minutes or until crust is golden brown.
Serve with a salad or beetroot.