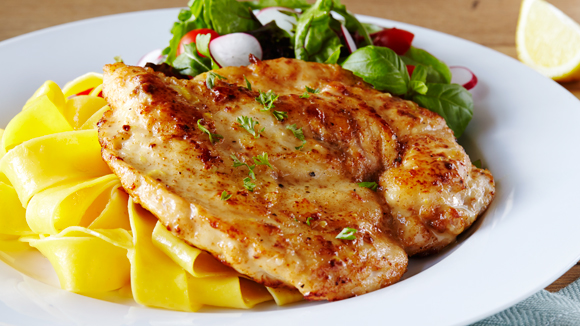 Chicken Piccata
This is a chicken recipe that combines simple ingredients of flattened chicken breast, lemon juice and stock, and is served with pasta.
Recipe serves

4

Preparation time

10 minutes

Cooking time

18 minutes
Ingredients
300 g fettuccine pasta prepared according to package
directions and ready to serve
50 g plain flour
¼ tsp salt
¼ tsp Robertsons Ground Black Pepper
4 boneless, skinless chicken breast halves, butterflied
4 tbsp Stork Margarine
150 ml chicken stock made with 1 Knorr Chicken Stock Pot
Zest and juice of ½ lemon
1 tbsp fresh chopped parsley
Method
Start cooking the pasta according to pack directions with a pinch of salt and dash of olive oil.
When the pasta is cooking combine flour, salt and pepper in a shallow bowl. Dip chicken in flour mixture, coating well.
Melt 2 tablespoons of Stork Margarine in a large frying pan over medium heat and cook the butterflied chicken breasts, two at a time until chicken is thoroughly cooked, turning just once. Remove chicken to serving platter and keep warm.
Pour the chicken stock and lemon juice and zest into the same frying pan. Bring to the boil over high heat, scraping brown bits from bottom of pan. Stir in remaining Stork Margarine until melted, add sprinkle of chopped parsley, taste and adjust seasoning if required. Keep on very low heat.
Melt 1 tablespoon Stork Margarine in separate frying pan. Lift cooked pasta out of its water with tongs and place into frying pan. Do not drain, the dripping pasta water will combine to make a nice buttery sauce. Bring up the heat swirling the pasta around, add some chopped parsley and shake the pan over the heat for 30 seconds until the pasta mixes with the spread.
Place pasta and chicken on a plate and pour the sauce over chicken. Garnish with parsley if desired.