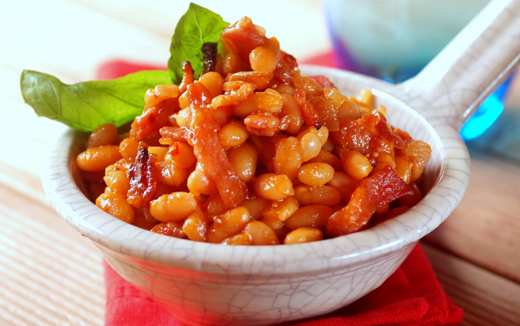 Boston Baked Beans
Try this homely recipe using bacon, beans and a hint of peri-peri. Tasty, with a kick, everyone will love it!
Recipe serves

4

Preparation time

5 minutes

Cooking time

120 minutes
Ingredients
62.5 ml Tomato sauce
5 ml Wholegrain mustard
1 Large onion, chopped
3 Bacon rashers, chopped
15 ml Oil
1 KNORR Vegetable Stock Pot
375 ml Dried white haricot beans
62.5 ml Firmly packed light brown sugar
30 ml peri-peri sauce
62.5 ml Golden syrup
Method
Soak beans in water overnight.
Drain beans, then rinse under cold running water.
Put beans into a large saucepan, cover with cold water and bring to the boil.
Boil rapidly for 10 minutes, then reduce to a simmer for 50 minutes, or until tender.
Reserve 1½ cups of the bean cooking liquid.
Transfer the reserved liquid and the beans to a large casserole dish.
Preheat oven to 160°C.
In a frying pan heat oil. Fry bacon and onion for 5 minutes until crisp.
Stir in tomato sauce, syrup, peri-peri Sauce, sugar, mustard and KNORR Vegetable Stock Pot.
Add to the casserole dish and stir to combine. Cover with a lid.
Bake for 1 hour, stirring once, until hot and bubbling.