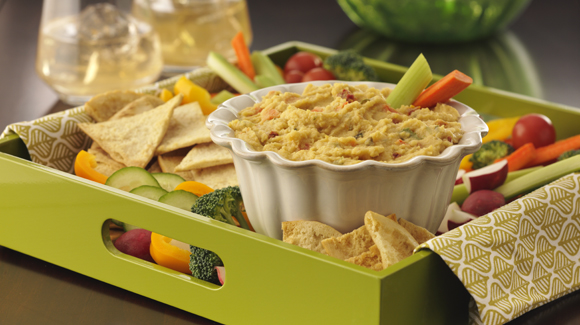 Hummus
Hummus is a real crowd pleaser and better yet is easy to make. Let the blender do all the hard work for you, and you will be left with a beautifully smooth and creamy paste - ready for warm pita bread and dippers of your choice!
Recipe serves

4

Preparation time

10 minutes
Ingredients
4 tbsp water
1 Knorr Vegetable Stock Pot
4 cloves garlic, crushed
400 g tin of chick peas, rinsed and drained
2 tbsp extra virgin olive oil
2 tbsp lemon juice
½ tsp Robertsons Ground Cumin
2 tbsp toasted sesame seeds
Method
Heat the water in a pan with the Knorr Vegetable Stock Pot. Stir until dissolved into a broth.
Place this broth and all other ingredients, into food blender and process until smooth. If the hummus needs a little more zing, add another squeeze of lemon juice and blend again. Chill for at least 2 hours.
Stir hummus then sprinkle with toasted sesame seeds before serving. If desired, drizzle a little of your best olive oil over the top of the hummus.
Serve with pitta bread and your favourite dippers such as carrots and celery.
TIP: Upon blending you should have a thick, textured mixture that moves easily with a spoon. If too thick, adjust by adding 1 extra tablespoon of water during blending.
TIP: Remember that hummus is a dish traditionally served at room temperature so it's always good to bring out of the fridge 30 minutes before serving.
TIP: To get that fluffy restaurant texture add 1-1½ tablespoons low-fat natural yoghurt (or Greek yoghurt) just before serving. Stir the yoghurt in really well with a fork.
Note: This recipe includes 2hrs chill time for best results.