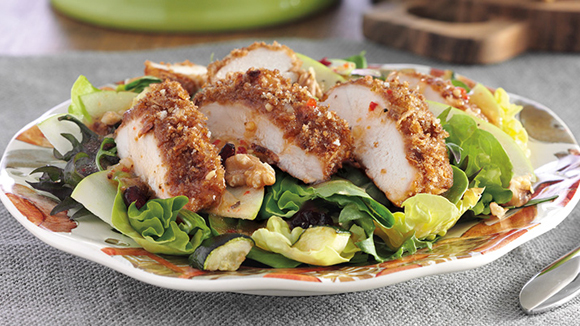 Chicken Salad
In search of simple, yet creative chicken recipes? This crispy chicken salad is a real treat if you are looking for a bit of variation.
Recipe serves

4

Preparation time

15 minutes

Cooking time

25 minutes
Ingredients
1 KNORR Chicken Stock Pot
100 g plain dry bread crumbs
1-2 tsp finely chopped fresh rosemary
4 boneless, skinless chicken breast halves
125 ml mayonnaise
2 medium baby marrows, sliced
500 g mixed salad leaves of your choice
225 g cherry tomatoes, halved
1 large green apple, cored, thinly sliced and covered with
sprinkling of lemon juice
110 g walnuts, lightly toasted
110 g dried cranberries
KNORR Creamy Garlic and Herb Salad Dressing
Method
Preheat oven to 220°C.
Mix the Knorr Chicken Stock Pot, rosemary and breadcrumbs together in a shallow bowl and set aside.
Coat chicken with the mayonnaise, then with bread crumb mixture. Place chicken flat on the base of lined baking tray, arrange baby marrows around chicken. Place in oven and cook for around 20 minutes until chicken is thoroughly cooked, turning baby marrows once after 10 minutes. Remove chicken from tray to cool for approx. 5 minutes then slice.
Arrange salad leaves on serving platter. Top with chicken and baby marrows, then remaining ingredients. Drizzle with Knorr Creamy Garlic and Herb Salad Dressing.
Sprinkle lightly roasted walnuts and dried cranberries to add crunch, flavour and valuable nutrients to this meal-worthy salad.