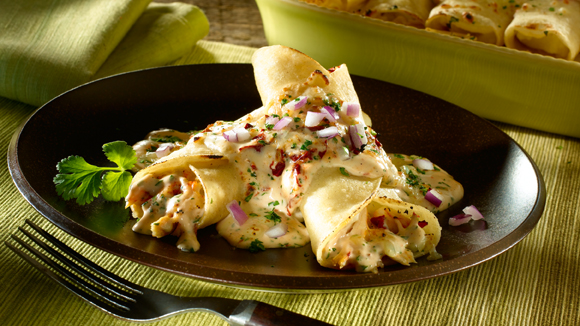 Chicken Enchiladas
Everyone loves tasty dinner ideas. Here is a delicious enchiladas recipe to make for the whole family. Garnish with red onion and coriander.
Recipe serves

4

Preparation time

25 minutes

Cooking time

30 minutes
Ingredients
6 tbsp Stork Margarine, divided
2 garlic cloves, crushed
250 ml milk, gently heated
150 ml low-fat cream
40 ml plain flour
1 KNORR Chicken Stock Pot
550 g grated mature Cheddar cheese, divided
300 g cooked chicken, shredded
1 tbsp chilli paste (optional)
3 tbsp fresh coriander, chopped
Sprinkle of Robertsons Ground Black Pepper
4-6 soft flour tortillas
Method
Preheat oven to 190°C.
Melt 2 tablespoons Stork Margarine in pan on gentle heat and add crushed garlic. Sweat garlic for 3-4 minutes (ie cook without colouring). On the lowest heat stir in the flour. Stir well until the flour mixes with the spread.
Add small amount of the heated milk, stir (or whisk) vigorously, until flour is mixed through. Add remaining milk stirring all the time. Add the KNORR Chicken Stock Pot then the cream and heat gently for 3-4 minutes (do not boil).
Mix the chilli paste and chopped coriander into the sauce. Add sprinkle of black pepper and 100 g of the cheese. Stir thoroughly over gentle heat for 3-4 minutes until cheese has melted. Remove from heat and set aside.
Evenly spread approx. 100 ml of the sauce mixture on the bottom of a medium size baking dish and set aside.
Combine the chicken, with the rest of the sauce mixture and set aside.
Melt 1 tablespoon Stork Margarine in small non-stick pan over medium-high heat and cook 1 tortilla, turning once, 15 seconds or until softened. Remove to paper-towel-lined plate. Repeat with remaining Stork Margarine and tortillas.
Evenly divide chicken mixture onto the tortillas, top the chicken mix with a sprinkle of the remaining Cheddar on each and roll up. Arrange enchiladas in prepared baking dish with seam side down, then top with remaining sauce mixture and cheese. Bake 20 minutes or until sauce is bubbling and cheese is golden. Garnish, if desired, with chopped red onion and coriander.