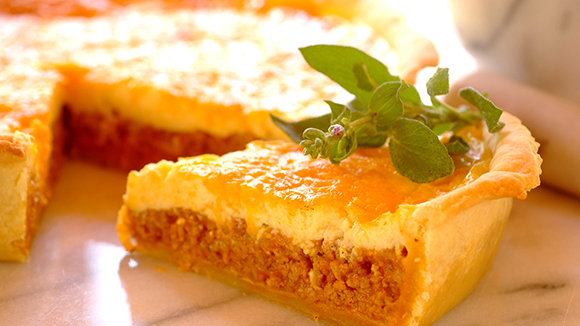 Savoury mince flan with sour cream topping
Bored of ordinary mince for dinner? Then try out this recipe that puts a new twist on an old favourite by transforming your mince into a tasty flan
Recipe serves

4

Preparation time

25 minutes

Cooking time

70 minutes
Ingredients
60 ml Tomato paste
2 ml Robertsons Origanum
1 Onion, chopped
30 g Margarine
500 g Minced meat
12.5 ml water
125 g Butter
5 ml lemon juice
375 ml Flour
1 sachet KNORR Cream of Mushroom Soup
190 ml water
250 ml Sour cream
2 Eggs
250 ml grated cheese
Method
Preheat oven to 220°C
For the base: Rub butter into flour until it resembles breadcrumbs.
Add lemon juice and 12.5ml water (adding more if necessary) to form soft dough.
Roll out to fit a deep 23cm flan tin.
Cover pastry with baking paper and fill with raw beans.
Bake at 220°C for 10 minutes.
Remove paper and bake for an extra 5 minutes.
For the filling: Melt margarine in a pan and sautè the onion until tender.
Add the mince and stir until browned.
Add KNORR Mushroom Cream of Mushroom Soup and Robertsons Origanum and mix well, then stir in tomato paste and 190ml water.
Bring to the boil, reduce heat and simmer uncovered for 10 minutes or until thickened.
Spread mince in pastry shell and top with sour cream and eggs beaten together.
Top with grated cheese.
Bake at 180 °C for 35 minutes until set and golden brown.
Serve with a crispy fresh salad.