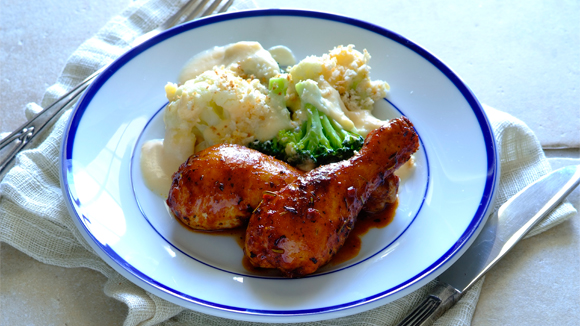 Spicy roasted drumsticks with cheesy cauliflower and broccoli bake
Two simple dishes using minimal ingredients that together make the perfect mid-week dinner!
Recipe serves

4

Preparation time

15 minutes

Cooking time

50 minutes
Ingredients
1 kg chicken drumsticks
1 KNORR Spicy Roast Chicken Cook-in-Bag
1 head broccoli, cut into florets
1 head cauliflower, cut into florets
2 sachets KNORR Three Cheese Sauce
500 ml milk
60 ml breadcrumbs
Method
No need to preheat oven.
Place chicken drumsticks into the roasting bag and season with dry KNORR mixture. Close bag at end with blue tie supplied.
Very gently massage KNORR mixture into the chicken on a stable surface. Ensure dry mixture is spread evenly.
Place bag sideways in a cool oven dish, ensuring pieces are evenly spaced.
Bake at 180⁰C for 50 minutes on the lowest shelf in the oven. Ensure that the grill is off at all times. Keep enough room for the bag to expand (bag must not touch the sides of the oven).
In the meantime place the broccoli and cauliflower into a pot of boiling, salted water and cook until tender then drain and place into an oven proof dish
Bring the milk to the boil in a small saucepan, then remove from the heat and whisk in the contents of the two sachets of KNORR Three Cheese Sauce
Pour the cheese sauce over the broccoli and cauliflower, top with the breadcrumbs then bake in a preheated oven at 180 C for 15 minutes
Remove the chicken from the oven cut the bag open, coat the pieces in any remaining juices and serve with the cauliflower and broccoli bake.