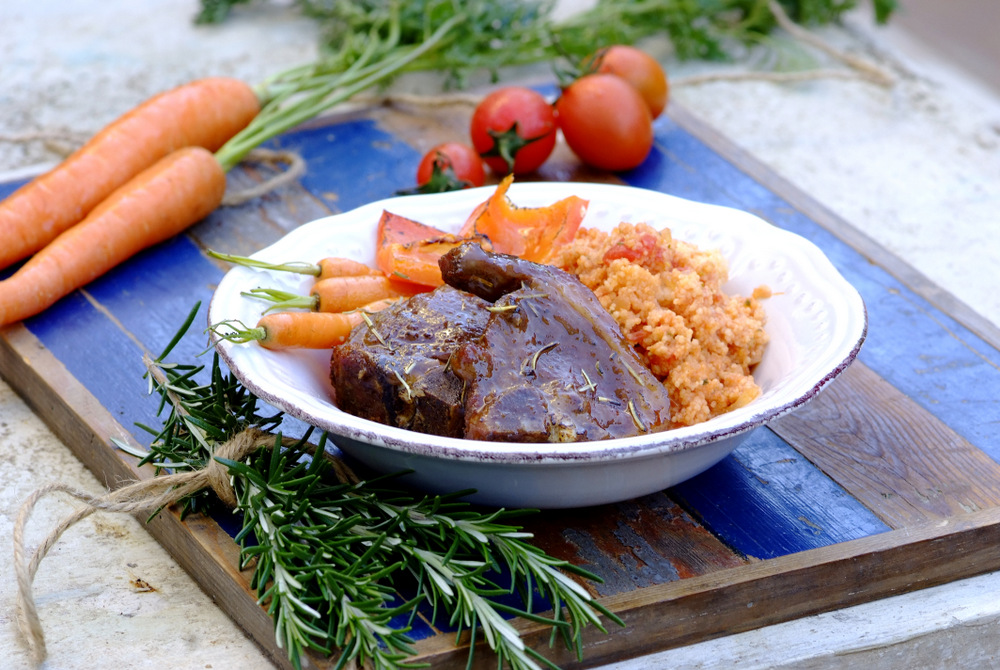 Roasted Lamb Chops with Tomato and Basil Couscous
Lamb loin chops are less fatty than the more popular shoulder chops and are great when served with this easy to prepare tomato couscous!
Recipe serves

4

Preparation time

15 minutes

Cooking time

50 minutes
Ingredients
1 KNORR Garlic and Rosemary Cook-in-Bag
8 lamb loin chops (approx. 1 kg)
15 ml olive oil
1 onion, finely diced
1 large clove crushed garlic
1 tin (410g) chopped tomatoes
250 ml couscous
310 ml boiling water
1 KNORR Vegetable Stock Pot
15 ml basil pesto
Method
No need to preheat oven.
Place lamb loin chops into bag and season with dry KNORR mixture. Close bag at end with blue tie supplied.
Very gently massage KNORR mixture into lamb on a stable surface. Ensure dry mixture is spread evenly. Place bag sideways in a cool oven dish, ensuring ingredients are evenly spaced.
Bake at 180⁰C for 50 minutes on the lowest shelf in the oven. Ensure grill is off at ALL times.
Keep enough room for bag to expand (bag must not touch the sides of the oven).
While the lamb is roasting prepare the couscous.
Heat oil in a pan and fry the onion and garlic until tender.
Add the chopped tomatoes, stir well and allow to simmer uncovered for 10 minutes then remove from the heat.
Place the couscous into a bowl, dissolve the KNORR Vegetable Stock Pot in the boiling water then pour it over the dry couscous. Stir well then cover immediately with cling film and allow to steam for 5 minutes.
Remove the cling film and stir the couscous with a fork to separate all the grains then stir in the tomato mixture followed by the basil pesto.
When the lamb is ready carefully cut open the bag and divide the chops between four plates and serve with the couscous and roasted vegetables.