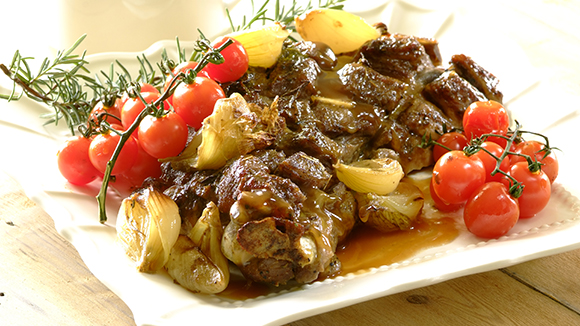 Roast shoulder of lamb with garlic and tomatoes
A delicious shoulder of lamb with baby onions, garlic, cherry tomatoes and fresh herbs!
Recipe serves

4-6

Preparation time

20 minutes

Cooking time

120 minutes
Ingredients
1.75 kg Shoulder of lamb
1 KNORR Cook-in-Bag Garlic & Rosemary
8 Baby onions, peeled and halved
2 Whole garlic cloves, peeled and halved
A few sprigs of fresh thyme, sage, parsley and rosemary
1 Punnet cherry tomatoes
250 ml water
15 ml Cornflour mixed with a little water
Method
No need to preheat oven.
Carefully place the lamb shoulder into the roasting bag together with the baby onions, garlic and sprigs of herbs.
Season with dry Knorr mixture.
Close bag at end with blue tie supplied.
Very gently massage Knorr mixture into lamb on a stable surface. Ensure dry mixture is evenly spread.
Place bag sideways in a cool oven dish, ensuring ingredients are evenly spread
Bake at 180C for 100 minutes on the lowest shelf in the oven. Ensure grill is off at all times. Keep enough room for bag to expand (bag must not touch sides of the oven).
After 100 minutes carefully cut open the top of the bag and place the cherry tomatoes inside then allow to cook for a further 20 minutes to brown the lamb and roast the tomatoes.
Once cooked carefully remove the lamb from the roasting bag and set aside to rest.
Remove the tomatoes and garlic cloves from the roasting bag and set aside.
Pour the juices and herbs from the roasting bag into a saucepan together with the water and allow to simmer to create the gravy.
Once simmering mix the corn flour with some water to make a smooth paste then stir this into the gravy.
Allow to simmer for a further 5 minutes to thicken then pass the gravy through a sieve and pour into a gravy boat.
Place the lamb onto a platter and dress the lamb with the roasted tomatoes, garlic and baby onions and serve with the gravy.