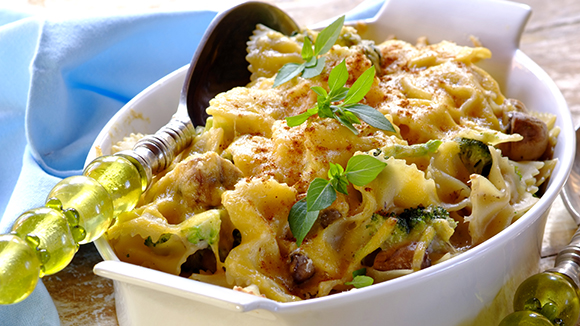 Pasta Bow Ties with Broccoli, Cheese and Mushrooms
Great for a main meal or side dish - the choice is yours!
Recipe serves

4

Preparation time

10 minutes

Cooking time

10 minutes
Ingredients
250 g Dry bow tie pasta, cooked according to packet directions, drained
400 ml Milk
1 sachet KNORR Chicken A La King Dry Cook-in-Sauce
2 cup Broccoli florets
1 cup Sliced mushrooms
2 tbsp Vegetable oil
30 ml Freshly grated Parmesan cheese
125 ml Cheddar cheese, grated
Method
Preheat oven to 180°C.
Lightly grease a baking dish.
In a pan heat oil and fry mushrooms.
Cook until liquid from mushrooms has evaporated.
Add broccoli and KNORR Chicken a la King Dry Cook-in-Sauce contents and milk.
Bring to the boil, cook for 10 minutes until sauce thickens.
Stir in the cooked pasta.
Place into prepared baking dish and cover.
Bake for 20 minutes.
Uncover and sprinkle with both the cheeses.
Bake for an additional 10 minutes.