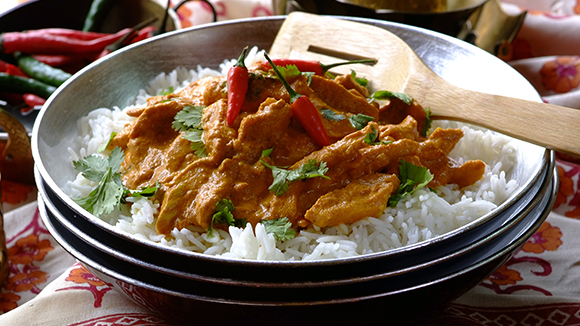 Indian Butter Chicken
Try not to be put off by the number of ingredients required for this dish – once your family try this creamy, authentic treat it will become a family favourite!
Recipe serves

4

Preparation time

30 minutes

Cooking time

40 minutes
Ingredients
150 ml water
1 Tin (410g) tomato purée
10 ml Robertsons Paprika
1 Robertsons Bay leaf
1 Robertsons Cinnamon stick
5 ml Cardamon
1 Onion, finely chopped
15 ml sunflower oil
60 g unsalted butter
1 KNORR Chicken Stock Pot
250 ml Cream
10 ml Salt
125 ml Plain yoghurt
15 ml lemon juice
5 ml Robertsons Turmeric
10 ml Garam masala
5 ml Chilli powder
5 ml Robertsons Cumin
10 ml Crushed ginger
10 ml Crushed garlic
800 g chicken fillet, cut into strips
Method
Combine yoghurt, lemon juice, turmeric, garam masala, chilli, cumin, ginger and garlic in a bowl. Add the chicken fillet strips and stir well.
Cover and allow to marinate in the fridge for at least 30 minutes.
Heat butter and oil in a pan over a medium heat. Add the onion, cardamom, cinnamon and bay leaf and cook for 2 minutes until the onion starts to soften.
Reduce heat to low, then add the chicken and marinade, paprika, tomato puree, water and the KNORR Chicken Stock Pot.
Simmer for 15 minutes then stir in the cream and cook for a further 10 minutes on a low heat.
Serve with basmati rice and fresh coriander.