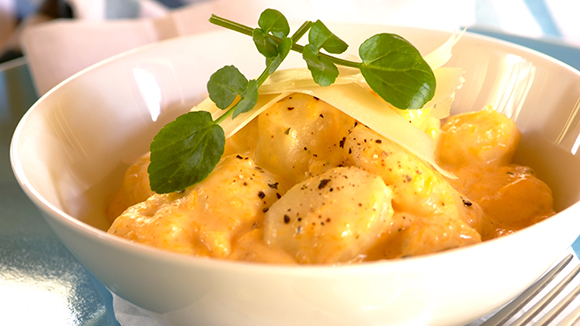 Gnocchi with Creamy Butternut, Sage and Pine Nuts
Tired of your usual pasta or rice? This Italian inspired dish using gnocchi - small dumplings made from flour and potatoes - makes a tasty dinner.
Recipe serves

4-6

Preparation time

15 minutes

Cooking time

15 minutes
Ingredients
500 g Butternut, peeled and cubed
500 g Fresh potato gnocchi
125 ml White wine
35 g Pine nuts
125 ml Cream
250 ml Milk
1 sachet KNORR Alfredo Pasta and Sauce
5 ml Robertsons Sage
Method
Steam peeled and cubed butternut in the microwave with a little salted water for 10 minutes until soft.
Remove from microwave, drain and mash with a potato masher until smooth but do not add any butter or margarine.
Boil a pot of salted water and place gnocchi into the boiling water.
When the gnocchi floats up to the surface of the water it means it is cooked – this will take about 4–5 minutes.
Remove cooked gnocchi from the pot with a slotted spoon and set aside.
Heat a large based frying pan.
When hot add the white wine and pine nuts and allow the alcohol to boil off of the wine.
The pine nuts will start to swell and begin to infuse the wine with a nutty taste.
Stir in the cream, milk, sachet of KNORR Alfredo Pasta and Sauce and Robertsons Sage.
Add the mashed butternut and stir until combined with the cream sauce.
Add the cooked gnocchi, stir well and season with black pepper.
Garnish generously with parmesan shavings.