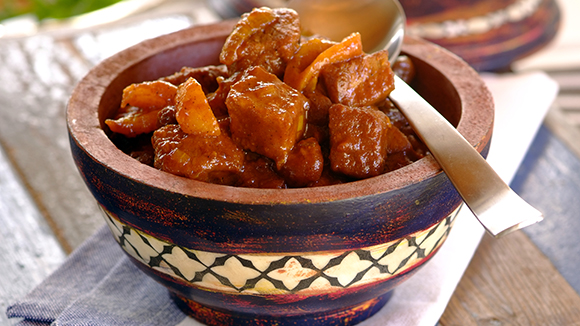 Spicy Beef Tagine with Apricots
Made with apricots, raisins and an exotic blend of spices, this dish is slow cooked to make a tasty, tender meal!
Recipe serves

3-5

Preparation time

20 minutes

Cooking time

60 minutes
Ingredients
100 g Dried apricots, chopped
250 ml Water
1 KNORR Beef Stock Pot
25 ml Dried chilli flakes
25 ml Paprika
15 ml Turmeric
15 ml Ground cinnamon
15 ml Ground ginger
3 Cloves crushed garlic
2 Onions, finely chopped
800 g Beef goulash cubes
45 ml Olive oil
250 ml Tomato puree
100 g Seedless raisins
30 ml Honey
Lemon, juice only
Method
Heat 30 ml of olive oil in a large pot and fry beef goulash cubes until well browned on all sides. Remove from the pot and set aside.
Add remaining olive oil and gently fry onion and garlic until soft.
Add all the spices and gently fry for 1 minute to release the aroma and flavour.
Return the browned beef cubes to the pot and fry for another 1 minute.
Add the tomato purée, KNORR Beef Stock Pot and water, stir well and bring to the boil.
Reduce the heat and add the chopped dried apricots, raisins, honey and lemon juice and allow to simmer with the lid on for 40 minutes stirring occasionally.
Garnish with sprigs of fresh coriander and serve with rice or cous cous.