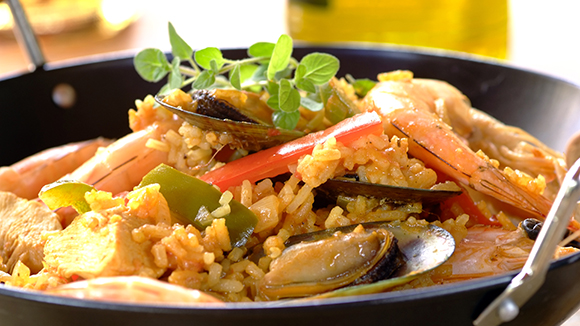 Seafood and Chicken Paella
A combination of prawns, mussels, fish and chicken flavoured with peppers, garlic and tomatoes makes this a meal to remember.
Recipe serves

6

Preparation time

20 minutes

Cooking time

40 minutes
Ingredients
2 Skinless chicken breasts, cut into large chunks
1 Small onion, finely chopped
300 g Prawns, peeled and veins removed
12 Large mussels (in shells)
80 ml Olive oil
2-3 Cloves of garlic, crushed
1 Green pepper, sliced
1 x 410 g Tin chopped tomatoes
2 Cups long grain rice
2.5 ml Robertsons Turmeric
1 Red pepper, sliced
210 ml Sugar
1sachet KNORR Spaghetti Bologanise Dry Cook-in-Sauce
2 Fillets of white fish such as hake, cut into pieces
4 ½ Cups Water
Method
In a pan sauté onion and garlic in olive oil until the onion becomes transparent.
Add chicken and peppers, cook, stirring for a minute.
Add tomatoes and sugar and bring to the boil, simmer uncovered until almost all the liquid has evaporated.
Stir in rice, contents of the sachet of KNORR Spaghetti Bolognaise Dry Cook-in-Sauce and turmeric.
Add the water, a little at a time, adding more if needed.
Stir until boiling, then simmer covered for about 15 minutes.
Stir in mussels, top with fish and prawns.
Cover and simmer for about 5 minutes or until fish and prawns are cooked.
Gently stir the fish and prawns through the rice and serve.