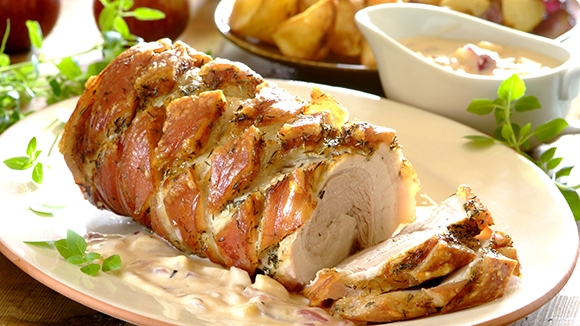 Roast pork belly with apple cream sauce
This roast belly of pork with its crispy crackling is utterly delicious when served with the perfect accompaniment – apple cream sauce!
Recipe serves

4-6

Preparation time

20 minutes

Cooking time

150 minutes
Ingredients
15 ml Dijon mustard
¾ cup Water
1 KNORR Chicken Stock Pot
30 ml Apple juice
1 Red apple, peeled, cored and finely diced
½ Red onion, finely chopped
10 ml Margarine
900 g Rolled pork belly
15 ml Olive oil
15 ml Robertsosn Atlantic Sea Salt
5 ml Robertsons Thyme
⅓ cup Cream
5 ml Cornstarch
Method
Preheat oven to 180°C.
Combine thyme, sea salt and olive oil in a bowl.
Dry the skin of the pork belly well with paper towel.
Using a sharp knife make criss-cross incisions along the skin of the pork belly without cutting into the meat.
Rub the olive oil mixture over the pork belly and place into a roasting tray.
Roast in a preheated oven at 180°C for 2-2 ½ hours or until the juices run clear then remove from the oven and allow to rest before slicing.
In the meantime melt the margarine in a pan and gently fry the red onion until soft then add the diced apple and fry for 2 minutes.
Add the apple juice and then allow to KNORR Chicken Stock Pot to melt in the pan before adding the water and cream.
Allow to simmer for 5 minutes then stir in the Dijon mustard.
Mix the cornstarch with a little water to form a smooth paste and then stir this into the sauce and allow to simmer for a further 5 minutes.
Serve sliced pork belly drizzled with apple cream sauce and roasted potatoes.