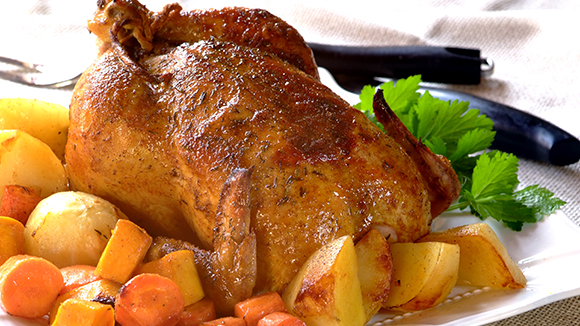 Roast Chicken with Bacon, Herb and Nut Stuffing
Try this recipe for a deliciously seasoned roast chicken that is juicy in the middle with a crispy golden skin! Serve with steamed vegetables.
Recipe serves

6

Preparation time

25 minutes

Cooking time

85 minutes
Ingredients
450 g Butternut, peeled and chopped
6 Small potatoes, peeled and cut in half
1 Egg
25 ml Walnuts, lightly toasted
1 Clove crushed garlic
50 g Diced Bacon
1 Small onion, finely diced
15 ml Robertsons Sage
250 ml Fresh breadcrumbs
1.3 kg Whole chicken, cleaned
3 Carrots, peeled and chopped
1 KNORR Cook-in-Bag Spicy Roast Chicken
10 ml sunflower oil
Method
No need to preheat oven.
Heat oil in a frying pan and fry bacon until crisp and golden.
Lower the heat and add onion and garlic and cook until soft.
Add sage, remove from heat and allow to cool.
Add the walnuts, breadcrumbs and egg, mix well then stuff into the cavity of the chicken.
Place chicken into the roasting bag with the potatoes, carrots and butternut and season with dry KNORR mixture. Close bag at end with blue tie supplied.
Very gently massage KNORR mixture into the chicken on a stable surface. Ensure dry mixture is spread evenly.
Place bag sideways in a cool oven dish.
Bake at 180⁰C for 70 minutes on the lowest shelf in the oven. Ensure that the grill is off at all times. Keep enough room for the bag to expand (bag must not touch the sides of the oven).
For a crispier skin, open the bag 15 minutes before the end of cooking.
Carefully cut open the bag and transfer to a serving dish with any remaining juices and serve.