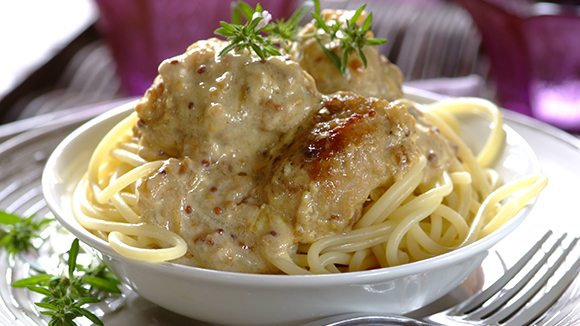 Pasta with Cream Cheese and Pork-Sausage Meatballs
Kids love meatballs so why not try this creamy take on the classic version, they will love something different to the normal tomato sauce!
Recipe serves

4

Preparation time

10 minutes

Cooking time

25 minutes
Ingredients
6 Pork sausages
15 ml Cooking oil
1 Onion, finely diced
1 Clove crushed garlic
1 KNORR Chicken Stock Pot
250 ml Water
60 ml Cream cheese
30 ml Wholegrain mustard
5 ml Dried parsley
300 g Spaghetti, boiled and drained
Method
Push the meat of the sausages out of the skins and place into a bowl.
Sausage skins can be discarded.
Roll sausage meat into meatballs - should make about 12 small meatballs.
Heat oil in a large pan and fry the onion and garlic until soft then add the meatballs and fry until well browned all over.
Add the KNORR Chicken Stock Pot together with the water and allow to simmer for 5 minutes then stir in the cream cheese, mustard and parsley and allow to simmer for a further 5 minutes, stirring to combine the sauce.
Toss the sauce and meatballs with cooked spaghetti and serve.