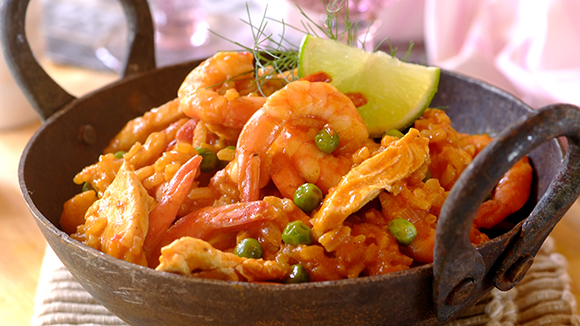 Paella with Prawns, Chicken and Peas
If you are having a craving for all things Spanish why not try out this superb recipe that captures all the flavours of Spain in one pan!
Recipe serves

4

Preparation time

35 minutes

Cooking time

30 minutes
Ingredients
750 ml water
1 KNORR Chicken Stock Pot
400 g tin chopped and peeled tomatoes
10 ml Robertsons Paprika
2 Cloves crushed garlic
1 medium onion, finely chopped
500 g Prawns, peeled and deveined
500 g Chicken breast fillets, thinly sliced
30 ml sunflower oil
75 ml fresh parsley leaves, roughly chopped
2.5 ml Saffron threads or turmeric
250 ml Arborio (risotto) rice
125 ml Fresh or frozen peas
2 Lemons, cut into wedges
Method
Heat oil in a large, heavy-based pan over a medium-high heat.
Add chicken and cook until well browned then remove from pan and set aside.
Add prawns to pan and cook, turning, for 2 minutes or until they change colour then remove from pan and set aside.
Add onion to the pan and cook for 3 minutes or until softened, then add garlic and paprika and cook, stirring, for 1 minute to release the flavor and aroma.
Add tinned tomato, KNORR Chicken Stock Pot, water and saffron/turmeric, stir until combined, and then bring to the boil.
Stir in rice, then reduce heat to low and simmer for 15-20 minutes or until rice is tender, stirring occasionally adding a little extra water if necessary.
Return chicken to pan together with peas and stir to combine. Cook for 2 minutes or until heated through, then add prawns and stir well to combine.
Sprinkle with chopped parsley and serve with lemon wedges.