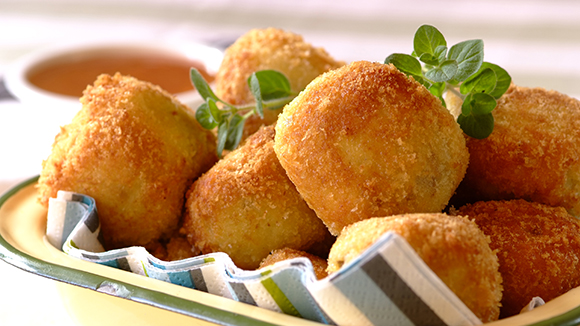 Mini Mince Croquettes
Impress your friends and family with these Dutch-style mini croquettes – they make the perfect starter or look great on a party platter.
Recipe serves

10

Preparation time

10 minutes

Cooking time

60 minutes
Ingredients
15 ml Margarine
½ KNORR Savoury Mince Dry Cook-in-Sauce
25 g Cake flour
100 g Breadcrumbs
KNORR Sweet chilli sauce, for dipping
400 g Extra lean beef mince
200 ml Cold water
2 Eggs
Oil, for frying
Method
Heat margarine in a pan and fry the mince until well browned and cooked through.
Add the ½ sachet of KNORR Savoury Mince Dry Cook-in-Sauce Cook-in-Sauce together with 200 ml cold water and stir through the cake flour.
Allow to simmer until most of the liquid has evaporated.
Transfer the mince to a bowl and allow to cool in the fridge until firm.
In a shallow bowl beat the eggs lightly with a fork, place the breadcrumbs in another bowl.
Shape the mince into 20 small balls and roll in breadcrumbs, then in the beaten egg and then in the breadcrumbs again.
Heat oil in a pan and shallow fry the croquettes 6 at a time for 3-4 minutes until brown and crisp.
Drain on paper towel and arrange the mini croquettes on a serving dish and serve with KNORR Sweet Chilli Sauce.