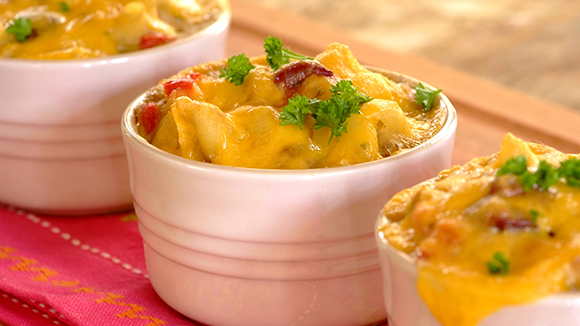 Individual Cheesy Tuna Pasta Bakes
Treat the woman in your life with these easy to prepare tuna pasta bakes that when served individually, look professional with minimal fuss.
Recipe serves

8

Preparation time

20 minutes

Cooking time

45 minutes
Ingredients
400 ml Cold low fat milk
500 ml Warm water
1 box KNORR Mince Mate Three Cheeses
2 Tins shredded tuna in water, drained
1 onion, finely chopped
15 ml oil
50 g Black olives, pitted and roughly chopped
100 g cheddar cheese, grated
1 Red pepper, finely chopped
Method
Preheat oven to 180°C.
Heat oil in a pot and lightly fry onion and red pepper until soft.
Add the two tins of drained tuna and fry for a further two minutes.
Add the sachet of seasoning mix from the box of KNORR Three Cheeses Mince Mate together with the water, milk, and uncooked pasta (contained within the box of KNORR Three Cheeses Mince Mate).
Mix then bring to the boil, stirring occasionally.
Reduce heat and allow to simmer uncovered on low heat for 15-20 minutes, stirring occasionally until pasta is cooked.
Stir through the chopped olives then spoon in to individual ramekins - makes 8 ramekins.
Top with grated cheddar cheese and place in the oven and allow to bake for 10 minutes.
Serve with salad and fresh bread rolls.