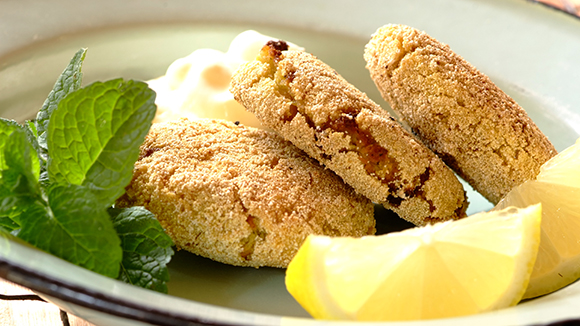 Goats Cheese and Coriander Falafels
These bite-sized morsels are an absolute treat with a glass of white wine!
Recipe serves

10

Preparation time

40 minutes

Cooking time

5 minutes
Ingredients
125 ml Polenta
Robertsons Black Pepper
½ Juice of lemon
½ Bunch coriander, chopped
1 KNORR Creamy Cheese Veggie Bake
2 Cloves garlic, crushed
1 tin Chickpeas, drained
100 g Plain goat's cheese
2 Eggs, lightly beaten
Oil, for frying
Method
Place goats cheese, chickpeas, garlic, KNORR Creamy Cheese Veggie Bake, coriander and lemon juice into a deep bowl.
Using a stick blender pulse until the chickpeas start to break down and the mixture forms a coarse paste.
Season with some Robertsons Black Pepper.
Mould the mixture into little patties and leave the mixture in the fridge to firm up for about 15 minutes.
Take falaffels out of the fridge and dip into the polenta, then into the beaten egg and again into the polenta.
Heat oil in a frying pan and gently fry the falaffels until golden brown.
Drain on paper towel and serve with lemon wedges and Greek yoghurt.