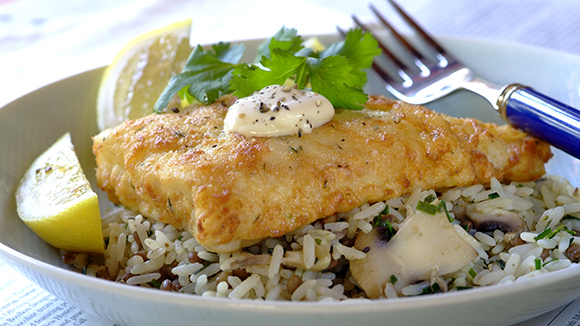 Garlic and Herb Hake Fillets with Lentils and Rice
South Africa's favourite fish prepared in a way that will have the whole family asking for more!
Recipe serves

4

Preparation time

25 minutes

Cooking time

30 minutes
Ingredients
4 Large hake fillets, free from skin and bones
150 ml Cake flour
1 sachet KNORR Garlic and Herb Potato Bake
2 Eggs, lightly beaten
Oil, for frying
250 g Button mushrooms, sliced
1 Clove crushed garlic
50 g Chives, finely chopped
2 cups Rice, boiled and drained
1 Tin lentils, drained
15 ml Basil pesto
Method
Heat oil in a deep frying pan or pot.
In a bowl mix together the cake flour and the contents of the sachet of KNORR Garlic and Herb Potato Bake.
Dip the hake into the egg first and then into the flour mixture and repeat.
Lightly fry the hake until the crust is a light golden brown.
Remove hake from oil and allow to drain on paper towel.
To prepare the rice sauté the mushrooms, garlic and chives in a pan until cooked then stir this together with the lentils and basil pesto into the cooked rice.
Serve the hake with the rice, lemon wedges and a side salad.