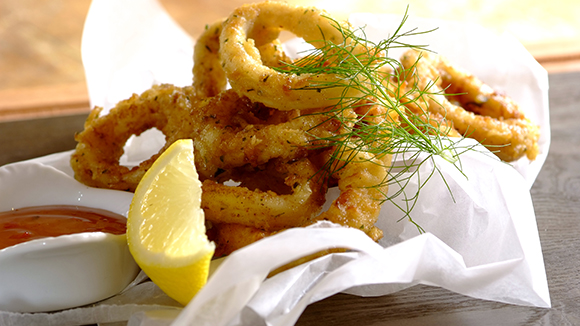 Garlic and Herb Calamari with Savoury Rice
Be sure to make plenty because this calamari may not even make it to the table!
Recipe serves

4

Preparation time

10 minutes

Cooking time

5 minutes
Ingredients
50 g Fresh chives, finely chopped
250 g Button mushrooms, sliced
Oil, for frying
2 Eggs, lightly beaten
1 sachet KNORR Garlic and Herb Potato Bake
90 ml Cake flour
400 g Package frozen calamari rings
2 Cup Rice, boiled and drained
1 Tin lentils, drained
Method
Heat oil in a deep frying pan or pot.
In a bowl mix together the cake flour and KNORR Garlic & Herb Potato Bake.
Dip calamari rings into the egg first and then into the flour mixture.
Lightly fry the calamari until the crust is a light golden brown.
Remove calamari from oil and allow to drain on paper towel.
To prepare the rice sauté the mushrooms and chives in a pan until cooked then stir this together with the lentils into the cooked rice.
Serve the calamari rings with the rice and a side salad.