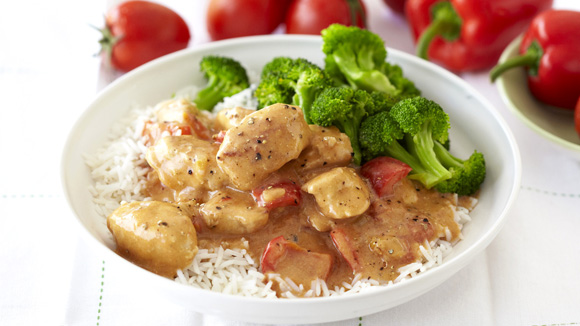 Creamy Chicken Fillet with Paprika and Tomato
When you combine paprika with the chicken in this classic recipe, it creates a delicious depth of flavour!
Recipe serves

4

Preparation time

20 minutes

Cooking time

35 minutes
Ingredients
15 ml Cooking oil
1 onion, finely diced
1 Red pepper, deseeded and sliced
3 tomatoes, chopped
5 ml Robertsons Paprika
400 g chicken fillet, cut into strips
500 ml low fat milk
1 sachet KNORR Chicken a'la King Dry Cook-in-Sauce
Method
Heat oil in a pan and sauté the onion and red pepper until soft.
Add the chopped tomatoes and fry until the tomatoes have broken up and are becoming pasty.
Add the paprika and fry for 1 minute to release the aroma and flavour, stirring continuously.
Add the chicken fillet and cook well.
Add the milk to the pan and stir in the contents of the sachet of KNORR Chicken a'la King Dry Cook-in-Sauce.
Allow to simmer for 15 minutes stirring occasionally until the chicken is tender.
Serve with rice or steamed baby potatoes and broccoli.