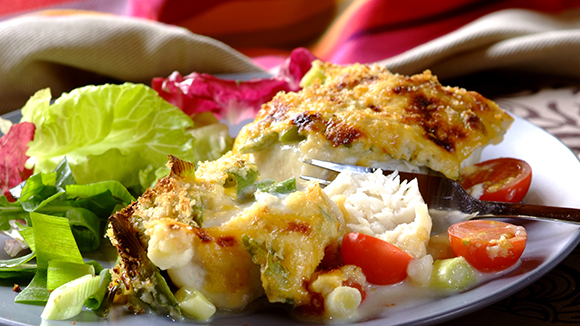 Creamy Baked Fish with a Cheesy Crumb Topping
For those looking for creative fish recipes, this Creamy Baked Fish with a Cheesy Crumb Topping makes the perfect red meat replacement!
Recipe serves

4

Preparation time

10 minutes

Cooking time

25 minutes
Ingredients
500 g Frozen Cape whiting steaks
2 Sachets KNORR Creamy Cheese Sauce
500 ml Milk
1 Punnet cherry tomatoes, halved
1 Bunch spring onions, roughly chopped
250 ml cheddar cheese, grated
Handful of breadcrumbs
Method
Preheat oven to 180°C.
Place Cape Whiting fish steaks into an oven proof casserole dish.
In a bowl mix contents of the sachets of KNORR Creamy Cheese Sauce with the cold milk (it will not mix together well as the milk is cold but this is fine as it will all come together in the oven).
Top the fish steaks with the halved cherry tomatoes and spring onions, keeping some aside to use as garnish.
Pour the sauce over the fish, top with cheddar cheese and sprinkle with breadcrumbs.
Place in the oven for 20 minutes to bake then turn the grill function on and grill for 5 minutes to make topping crispy.
Remove from oven and garnish with reserved cherry tomatoes and spring onions and serve with a seasonal side salad.