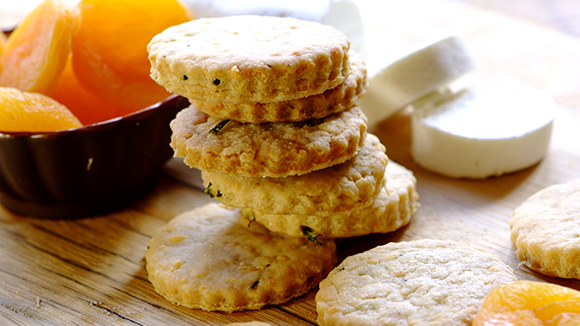 Cheese Biscuits with Black Pepper and Chives
Impress guests with these scrumptious Cheese Biscuits with Black Pepper and Chives. They are easy to make and are endlessly tasty.
Recipe serves

4

Preparation time

50 minutes

Cooking time

20 minutes
Ingredients
250 g Cake flour
1 KNORR Black Pepper Sauce
55 g Cheddar cheese, grated
15 ml Fresh chives, finely chopped
125 ml Olive oil
1 Egg yolk
80 ml Water
Method
Preheat oven to 170°C.
In a bowl mix together the cake flour, KNORR Black Pepper Sauce, cheddar cheese and chives.
In a separate bowl whisk together the oil, egg yolk and water.
Add the oil mixture to the flour mixture and stir until well combined.
Turn the dough out onto a lightly floured surface and knead until smooth.
Divide the dough into two portions, wrap in plastic wrap and allow to rest in the fridge for 30 minutes.
Roll the dough out on a lightly floured surface until about 5 mm thick then and cut out biscuits using a 5 cm round cutter.
Place biscuits on a greased baking tray and bake for 20 minutes until lightly golden brown.
Remove from baking tray, allow to cool completely then serve on a cheese board with an assortment of cheeses and dried fruits.