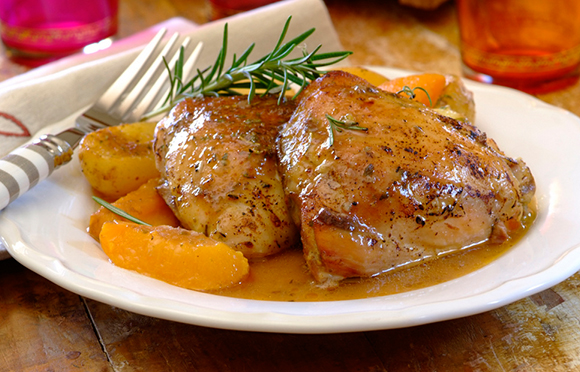 All-In-One Chicken, Peach and Rosemary Bake
Although they sound like an odd combo, when it comes to healthy dinner recipes, chicken, peaches and rosemary work really well together.
Recipe serves

4-6

Preparation time

15 minutes

Cooking time

50 minutes
Ingredients
1 KNORR Cook-in-Bag Garlic and Rosemary
8 Chicken thighs, skin removed
500 g Baby potatoes, halved
1 x 410 g can peach halves in syrup
15 ml Cake flour
Method
No need to preheat oven.
Place chicken thighs, baby potatoes and cake flour into the cooking bag.
Slice the peach halves into quarters and place into the bag, reserving the syrup from the can. Season with dry KNORR mixture.
Holding the bag closed, very gently massage KNORR mixture into the chicken on a stable surface. Ensure dry mixture is spread evenly.
Add half the syrup from the can. Close bag at end with blue tie supplied.
Place bag sideways in a cool oven dish, ensuring pieces are evenly spaced.
Bake at 180⁰C for 50 minutes on the lowest shelf in the oven. Ensure that the grill is off at all times. Keep enough room for the bag to expand (bag must not touch the sides of the oven).
Cut the bag open and transfer to a serving dish with any sauce that is in the bag.