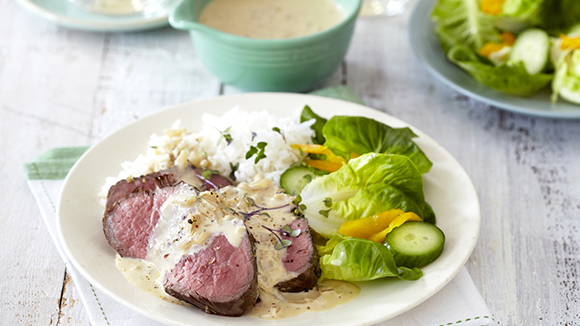 Chargrilled Fillet with a Creamy Mixed Peppercorn Sauce
Chargrilled Fillet with a Creamy Mixed Peppercorn Sauce
Recipe serves

4

Preparation time

10 minutes

Cooking time

15 minutes
Ingredients
1 KNORR Chicken Stock Pot
1 Kilogram Beef fillet
1 Tablespoon Olive oil
1 Garlic clove, crushed
1 Cup Cream
Juice of ½ lemon
Robertsons Atlantic Sea Salt
1 Medium onion, chopped
2 Sprigs of thyme
½ Cup Water
2 Tablespoon Robertsons Mixed Peppercorns Paste
1 Tablespoon Brown sugar
Method
Heat olive oil in a sauce pan.
Add the onion, garlic and thyme.
Sauté for 2 minutes over low heat, then add the KNORR Chicken Stock Pot and water.
Cook for 4 minutes, until the KNORR Chicken Stock Pot is dissolved .
Add cream and cook until slightly thickened.
Add the Robertsons Mixed Peppercorns Paste, lemon juice, sugar and Robertsons Atlantic Sea Salt.
Cook for a few more minutes, and then set aside.
Serve over grilled fillet medallions.