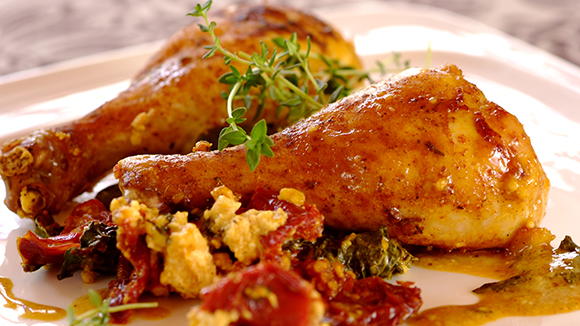 Festive Chicken in a Bag with Spinach and Feta
Simply add all the ingredients to the bag, cook up some rice or mash potato and your dinner is ready, so simple but so delicious!
Recipe serves

4

Preparation time

10 minutes

Cooking time

50 minutes
Ingredients
1 x KNORR Cook-in-Bag Spicy Roast Chicken
500g chicken drumsticks
70g sundried tomatoes in oil, drained and chopped
80g feta cheese, crumbled
120g baby spinach
100ml cream
Method
No need to preheat oven.
Place chicken drumsticks into the roasting bag with the sundried tomatoes, feta cheese, baby spinach and cream and season with dry KNORR mixture.
Very gently massage KNORR mixture into the chicken on a stable surface. Ensure dry mixture is spread evenly.
Place bag sideways in a cool oven dish, ensuring pieces are evenly spaced.
Bake at 180⁰C for 50 minutes on the lowest shelf in the oven. Ensure that the grill is off at all times. Keep enough room for the bag to expand (bag must not touch the sides of the oven).
Cut the bag open and transfer to a serving dish.
Serve with rice or mashed potato and spoon the leftover sauce over your meal.