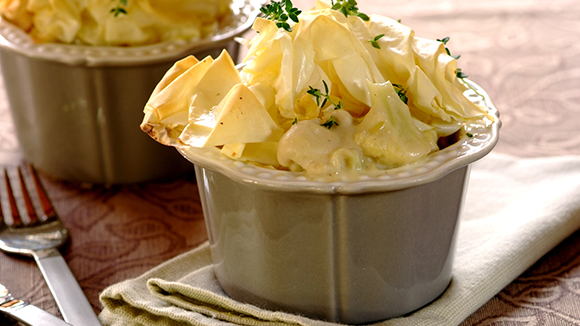 Chicken and Cauliflower Phyllo Pots
Serve these delicious Chicken and Cauliflower Phyllo Pots as either a starter or a light meal at book club – the ladies will love them!
Recipe serves

4

Preparation time

15 minutes

Cooking time

45 minutes
Ingredients
½ Margarine, melted
500 ml Cauliflower florets
1 Milk
125 g Button mushrooms, sliced
400 g Chicken fillet strips, cut into cubes
½ Onion, chopped
15 ml oil
200 g Roll phyllo pastry
1 KNORR Chicken a'la King Dry Cook-in-Sauce
Method
Preheat oven to 180°C.
Heat oil in a pan and fry onions until soft.
Add chicken cubes and fry until well browned on all sides then add the mushrooms and fry for a further 2 minutes.
Add the sachet of KNORR Fresh Ideas Chicken a'la King Cook-in-Sauce together with the milk and cauliflower.
Stir well and allow to simmer for 20 minutes, stirring frequently.
Spoon into individual ramekins.
Brush half a sheet of phyllo pastry with melted margarine, scrunch up and place on top of each ramekin.
Bake in the oven at 180°C for 10 minutes or until pastry is golden brown.