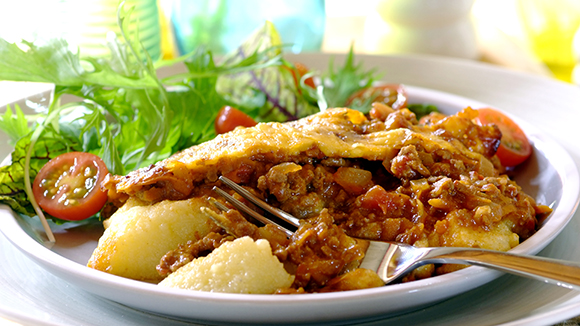 Cheesy Mince and Polenta Bake
Polenta is a delicious Italian staple that can be served savoury or sweet. Your family will love this cheesy savoury mince version!
Recipe serves

4

Preparation time

20 minutes

Cooking time

50 minutes
Ingredients
15 ml Sunflower oil
1 Onion, finely diced
3 Carrots, peeled and grated
400 g Lean beef mince
50 g Tomato paste
1 sachet KNORR Spaghetti Bologanise Dry Cook-in-Sauce
1 tin Chopped and peeled tomatoes
250 ml Water
Cheddar cheese, grated
For the Polenta:
250 ml Water
2.5 ml Salt
250 ml Polenta
75 ml Parmesan cheese, grated
Method
Preheat oven to 180°C.
Bring water and salt to the boil in a large pot over a high heat.
When boiling reduce the heat and gradually whisk in the polenta.
When the polenta is starting to thicken change to a wooden stir and continue to stir for about 8 minutes to cook the polenta then stir in the Parmesan cheese.
Spoon into the base of a greased oven proof casserole dish using the spoon to even out the polenta across the base of the dish.
In a pan heat the oil and fry the onion and carrots until soft.
Add the beef mince and fry until well browned.
Stir in the tomato paste and contents of the sachet of KNORR Spaghetti Bologanise Dry Cook-in-Sauce
Stir in the tinned tomatoes and water and allow to simmer for 10-15 minutes, stirring occasionally.
When the mince is cooked spoon it into the oven proof casserole dish on top of the polenta base, top with grated cheddar cheese and bake in a preheated oven at 180°C for 10 minutes or until the cheese is melted.