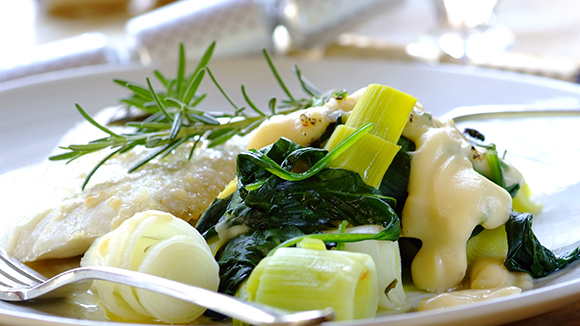 Cheesy Leek and Spinach Bake
The simple combination of the cheese sauce and the classic onion flavour really adds something special to this unique vegetarian recipe!
Recipe serves

4

Preparation time

15 minutes

Cooking time

20 minutes
Ingredients
4 Leeks, cleaned and roughly chopped
200 g Baby spinach, washed
850 ml Water
1 KNORR Vegetable Stock Pot
1 sachet KNORR Creamy Cheese Sauce
30 ml Fresh chives, finely chopped
Robertsons Black Pepper
Method
Preheat oven to 180°C.
Place water into a small pot together with the KNORR Vegetable Stock Pot and bring to the boil.
When boiling put the roughly sliced leeks into the pot and blanch until tender.
Remove the leeks with a slotted spoon and place into a bowl then blanch the baby spinach in the same liquid and remove when soft (not longer than 1 minute).
Mix the blanched leeks and baby spinach together then transfer to an oven proof casserole dish.
Make up the sachet of KNORR Creamy Cheese Sauce as per on pack instructions, then pour the prepared sauce over the leeks and spinach.
Top with chopped chives and freshly cracked black pepper.
Bake in a preheated oven for 10 minutes.
Serve with grilled fish or chicken.