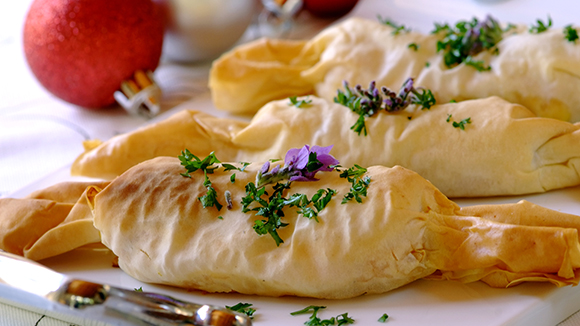 Butternut and Feta Christmas Phyllo Crackers
If you're looking for vegetarian recipes for the festive season, try making these tasty butternut and feta- filled crackers.
Recipe serves

4-6

Preparation time

60 minutes

Cooking time

15 minutes
Ingredients
30 g Stork margarine
1 Red Onion, finely diced
500 g Butternut, peeled and cubed
125 g Feta cheese, crumbled
1 sachet KNORR Classic White Sauce
1 Roll phyllo pastry
1 Punnet fresh chives
Method
Sauté the onion in the margarine until soft but with no colour, then set aside.
Steam the butternut in a little salted water in the microwave for about 10-12 minutes or until soft then drain and mash until just smooth but still slightly chunky.
In a bowl mix the sautéed onion, mashed butternut, crumbled feta and contents of the sachet of KNORR Classic White Sauce together.
Season to taste with salt and black pepper, then leave to cool.
Remove the sheets of phyllo pastry from the packaging and cut into 4, to give you rectangles.
Place one rectangle on a board, brush with melted butter then place another rectangle on top and brush with melted butter.
Place one tbspful of the mixture in the centre of the pastry and roll up to resemble a cigar then pinch the edges using your fingers so that it resembles a cracker.
Continue until you have enough crackers or until the filling is finished.
Place the crackers onto a greased baking tray, brush each cracker with a little more melted butter then place in the fridge to chill and firm up for about 30 minutes.
Bake in a preheated oven at 190°C for about 15 minutes or until the pastry is crispy and golden brown.
Transfer the crackers to a cooling rack then secure the ends of the crackers with chives.