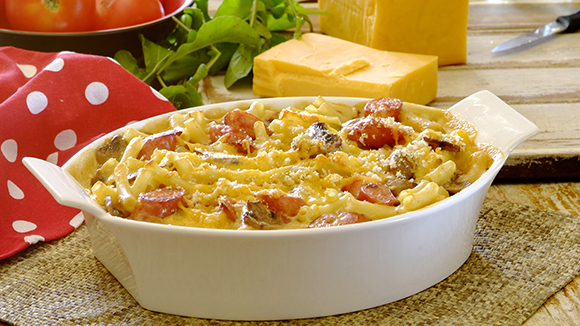 Bacon Griller Mac and Cheese
An easy to follow recipe that will have the family begging for a seconds, this Bacon Griller Mac and Cheese is perfect for everyone.
Recipe serves

4

Preparation time

15 minutes

Cooking time

35 minutes
Ingredients
2 Sachets KNORR Macaroni and Cheese Pasta and Sauce
15 ml Margarine
250 g Bacon griller sausages, sliced (or any smoked sausage)
1 Red onion, finely diced
250 g Button mushrooms, sliced
45 ml Sweet chilli flavour cream cheese
100 g Cheddar cheese, grated
45 ml Breadcrumbs
Method
Prepare and cook the macaroni as per the on-pack instructions.
Melt the margarine in a frying pan and fry the sausages, onion and mushrooms until tender.
Combine the sausage mixture with the cooked macaroni then stir in the cream cheese.
Season to taste then transfer to an ovenproof casserole dish.
Combine the breadcrumbs with the grated cheddar cheese and sprinkle over the macaroni.
Place under a preheated grill until golden brown.
Garnish with chopped spring onion and cherry tomatoes.