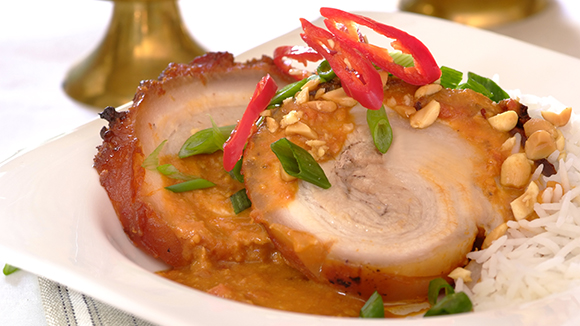 Asian-Style Pork
This dish only takes 20 minutes to prepare, requires only an hour to cook, and results in a sweet, salty pork dish.
Recipe serves

6

Preparation time

20 minutes

Cooking time

60 minutes
Ingredients
15 ml Honey
2 Cloves garlic, minced
15 ml Freshly grated ginger
15 ml Dark soy sauce
125 ml Smooth peanut butter
410 g Tin chopped and peeled tomatoes
1.5 kg Pork loin, boneless, rind off, and rolled
1.25 ml Sesame oil
1 KNORR Cook-in-Bag BBQ Flavour
60 ml Toasted cashew nuts
3 Spring onions, sliced
3 cups Cooked rice
Method
No need to preheat oven.
Place pork into the roasting bag.
In a bowl, mix together the seasoning mix, tinned tomatoes, peanut butter, soy sauce, sesame oil, ginger, garlic and honey until combined.
Spoon the sauce into the roasting bag and rub into pork. Close bag using blue tie supplied.
Place bag sideways in a cool oven dish.
Bake at 180⁰C for 60 minutes or until cooked, on the lowest shelf in the oven. Ensure the grill is off at ALL times. Keep enough room for the bag to expand (Bag must not touch sides of the oven).
Remove from oven and allow to rest in bag for 10 minutes before serving.
Spoon cooked rice onto a serving platter. Remove pork from bag, slice, then arrange on top of rice. Pour the bag juices over pork. Sprinkle with toasted cashew nuts and spring onions.