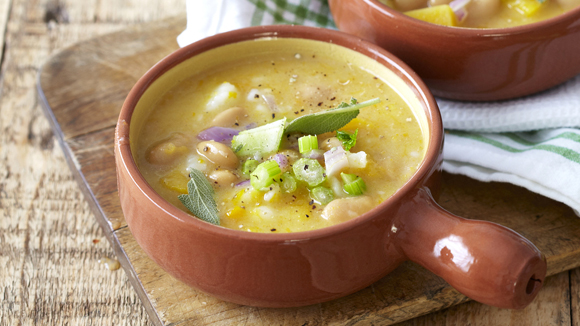 Pumpkin and Butter Bean Soup
This delicious soup made with pumpkin, butternut, potatoes and sugar beans then served with hot crusty bread is ideal for Sunday lunch or dinner
Recipe serves

4

Preparation time

15 minutes

Cooking time

30 minutes
Ingredients
10 Sage leaves, chopped
2 lt water
1 sachet KNORR Chicken a'la King Dry Cook-in-Sauce
400 g Pumpkin, cubed
400 g Butternut, cubed
2 Potatoes, peeled and chopped
15 ml Olive oil
1 red onion, chopped
2 Garlic cloves, chopped
100 g Celery stick, sliced
200 g Tinned butter beans, drained
Freshly ground black pepper to taste
200 g Bread, sliced
Method
Place pumpkin, butternut and potato in a large saucepan and pour in the water and KNORR Chicken a'la King Dry Cook-in-Sauce sachet contents.
Bring to the boil then reduce the heat and simmer for 30 min or until soft.
Remove from the heat and drain, reserving the liquid.
Roughly mash the pumpkin, butternut and potatoes with a fork, return to the pan with the reserved liquid and add the beans.
Heat the oil in a small frying pan.
Add onion, garlic and celery and fry for 2 min.
Add to the soup with the sage and pepper and heat through.
Serve hot with crusty bread.