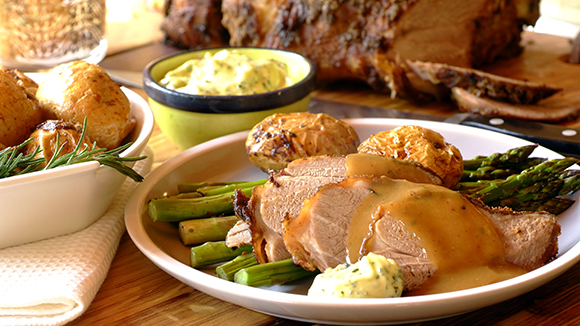 Roast Lamb With Mint Aioli
Done to perfection, roast lamb and crispy potatoes always make a meal extra special.
Recipe serves

6-8

Preparation time

20 minutes

Cooking time

90 minutes
Ingredients
60 ml olive oil
30 Mint leaves, chopped
15 ml white wine vinegar
800 g baby potatoes
Aioli
1 Garlic clove, crushed
2 kg Leg of lamb
1 packet KNORR Beef Stroganoff Dry Cook-in-Sauce
45 ml Flour
1 Egg yolk
1 bunch Fresh rosemary
125 ml olive oil
Method
Place the rosemary in a roasting dish.
Place the lamb on top.
In a jug mix together the oil and contents of the KNORR Fresh Ideas Beef Stroganoff packet.
Rub over the meat.
Place the potatoes around the lamb.
Place in a preheated 200°C oven.
After 30 minutes use the juices from the pan to baste the lamb.
Roast for a further 40-60 minutes depending on how well done you want the lamb.
Place the lamb and potatoes on a warm serving plate and allow to rest before carving.
Remove the rosemary sticks from the juices and add flour.
Stir continuously over a low heat, adding about 250-350 ml water to make a gravy.
Aioli: Place the egg yolk, garlic and vinegar into a small food processor.
Blend, then slowly blend in the oil until you have a thick mayonnaise.
Stir in the mint leaves.
Carve lamb and serve with roast potatoes, gravy and aioli.