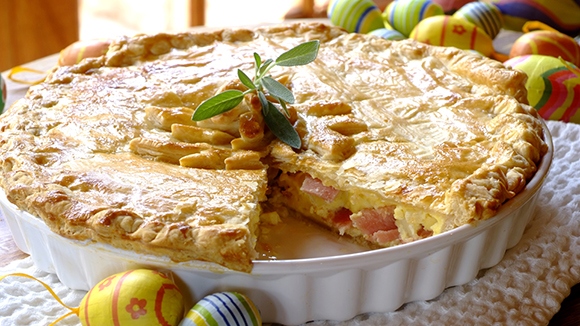 Bacon And Egg Pie
Ideal for a Sunday brunch or perhaps a special Easter breakfast, this recipe is easy to prepare and packed with delicious flavour.
Recipe serves

4 to 6

Preparation time

20 minutes

Cooking time

60 minutes
Ingredients
30 ml oil
200 g bacon, chopped
1 onion, chopped
400 g roll short crust pastry, thawed
1 packet KNORR Three Cheese Sauce
6 eggs
250 ml cream
400g roll puff pastry, thawed
1 egg, beaten for brushing
Method
Preheat oven to 210°C
In a pan heat the oil and fry the bacon and onion until bacon is cooked and onion is soft.
Lightly grease a large, deep pie dish.
Roll out the first roll of shortcrust pastry and line the pie dish.
Place a piece of greased kitchen paper over the pastry and fill with beans or rice.
Bake blind in a 210°C oven for 10 minutes.
Remove the paper and beans and bake for a further 10 minutes.
Allow to cool.
Arrange the bacon and onion over the cooled pastry.
In a bowl beat together the KNORR Three Cheese Sauce powder, eggs and cream.
Roll out the second roll of puff pastry and get it ready to put on top.
Pour the egg mixture over the bacon and top with the pastry.
Decorate with left-over pieces of pastry, and brush with extra beaten egg.
Bake for 15 to 18 minutes or until the top is golden brown. Serve.