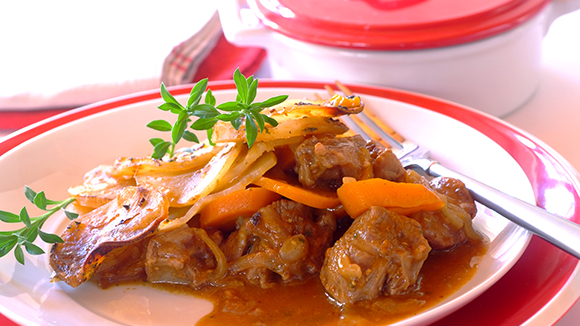 English Lamb and Potato Hotpot
Traditional English fare just like Gran used to make! A traditional Lancashire-style hotpot, made with stewing lamb, carrots and potatoes.
Recipe serves

4

Preparation time

5 minutes

Cooking time

120 minutes
Ingredients
500 g Stewing lamb, chopped
1 Onion, sliced
3 Carrots, peeled and sliced
3 Potatoes, peeled and thinly sliced
550 ml water
1 KNORR Country Hot Pot Dry Cook-in-Sauce
5 ml Mustard
Method
Preheat oven to 180°C.
Grease a large casserole dish and layer the meat, onion, carrots and potatoes, ending with a layer of potatoes.
Mix together water and the contents of the sachet of KNORR Country Hot Pot Dry Cook-In-Sauce.
Add mustard and pour over the potatoes so that the liquid almost covers the potatoes.
Bake in the oven for 1 ½ - 2 hours until the potatoes and carrots are cooked.
Serve with red cabbage and pickles.