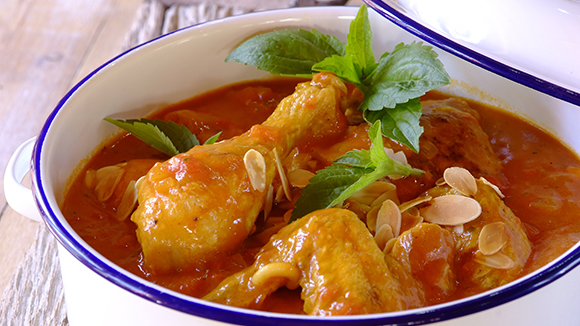 Peach and Almond Chicken Casserole
Made with peaches and peppers and topped with blanched almonds, this delicious chicken casserole has a sweet and savoury tang to it.
Recipe serves

4

Preparation time

15 minutes

Cooking time

50 minutes
Ingredients
1 sachet KNORR Chicken a'la King Dry Cook-in-Sauce
400 ml Water
10 ml lemon juice
1 tbsp Sherry (optional)
115 g Mushrooms
1 Green pepper, chopped
1 Medium onion, chopped
60 g Blanched almonds
30 g Margarine
15 ml Cooking oil
1 Small tin sliced peaches, reserving the juice
8 Chicken pieces
Method
Brown the chicken in a little oil.
Remove and set aside.
Add the margarine to the pan and add nuts and fry until browned.
Remove the nuts and keep on one side.
Add onions, peppers and mushrooms and chicken pieces to the same pan and fry for 5 minutes.
Add sherry and lemon juice.
Add KNORR Chicken a'la King Dry Cook-in-Sauce to the pan and pour in 300 ml water and add the reserved juice from the peaches.
Simmer for 15-20 minutes.
Add peaches and nuts to the pan and serve.
Recipes