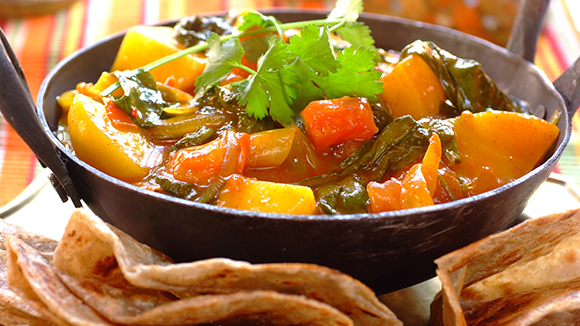 Spinach and Potato Curry
This curry is cost effective to make and tastes great. Try it inside half a scooped out bread loaf known as a "bunny chow".
Recipe serves

4

Preparation time

10 minutes

Cooking time

30 minutes
Ingredients
30 ml Oil
1 Onion, sliced
250 g Potatoes, quartered
5 ml Robertsons Cumin
2 Chilies, seeded and chopped
2 ml Robertsons Ginger
2 Tomatoes, chopped
300 ml Water
1 sachet KNORR Mild Durban Curry Dry Cook-In-Sauce
1 kg Spinach, roughly chopped
Method
Heat oil in a frying pan and sautè onion in oil until it softens then add the chillies and spices and fry to release the flavour and aroma
Add potatoes, tomatoes, water and KNORR Mild Durban Curry Dry Cook-In-Sauce sachet.
Bring to the boil then simmer for 10 minutes.
Add spinach and cover, cooking for 2 minutes, simmer over low heat for a further 20 minutes.
Serve with roti or as a bunny chow.