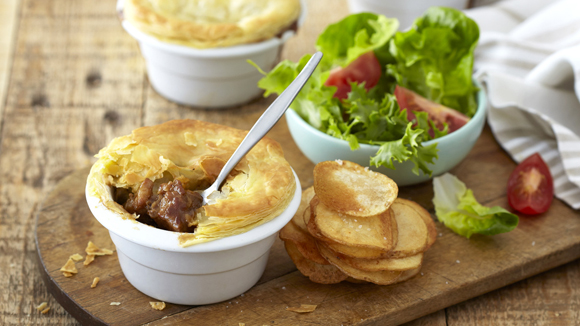 Guinness Pepper Beef Pie
Recipe serves

2-4

Preparation time

60 minutes

Cooking time

240 minutes
Ingredients
5ml Mustard sauce
1 Kg Stewing Beef
2 Onions, roughly chopped
30ml Olive oil
3 teaspoons Robertsons Black Peppercorns, ground
1 sachet KNORR Country Hot Pot Dry Cook-in-Sauce
4 Robertsons Bay Leaves
1 Bottle Guinness Beer
1 Roll puff pastry defrosted
Method
Preheat oven to 150C.
Heat oil in a pot and sauté the onions until soft.
Add the beef cubes and if necessary brown in batches adding a little extra oil if required.
Add the mustard, contents of the sachet of KNORR Country Hot Pot Dry Cook-in-Sauce, bay leaves and peppercorns.
Bring to the boil then transfer to an oven proof casserole dish and place in a preheated oven for about 2 hours or until the beef is tender.
Remove from the oven and set aside to cool.
Divide the meat up in ovenproof bowls.
Cut circles of puff pastry to fit on top, making a slit in the top with a knife to allow steam to escape Brush with a little milk or egg yolk, and bake at 200 C for about 20 minutes or until the pastry is puffy and golden brown.
Serve with golden brown potato chips and a green salad.