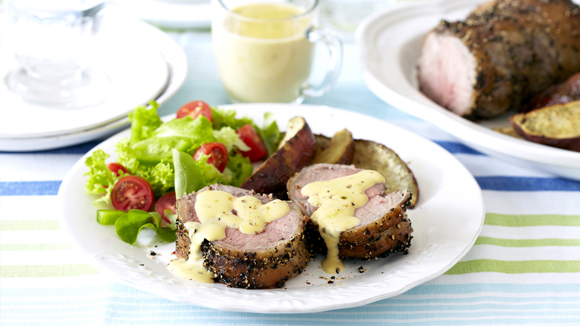 Bushveld Sirloin of Beef with Amarula Cream Sauce
If you're bored of the same old beef recipes, you need to try this delicious sirloin steak recipe with a sensational Amarula Cream sauce.
Recipe serves

4-6

Preparation time

15 minutes

Cooking time

25 minutes
Ingredients
60 ml Robertsons Freshly Ground Black peppercorns
1,5 – 2 ml Robertsons Freshly Ground Atlantic Sea Salt to season
45 ml Olive Oil
1.2 kilogram Beef Sirloin Roast
250 ml Cream
150 ml Milk
30 ml Honey
30 ml Dijon mustard
1 KNORR Vegetable Stock Pot
25 ml Amarula Liqueur
Robersons Salt and Pepper to taste
Method
In a bowl mix the Robertsons Freshly Ground Black peppercorns, a little salt and the olive oil together.
Rub all over the meat.
Roast the meat whole in the centre of a preheated 200°C oven for about 25 minutes for medium-rare.
Remove from heat and allow to rest.
The roast will continue cooking a little while resting, so don't be tempted to put it back in the oven.
Place the cream, milk and honey, mustard and KNORR Vegetable Stock Pot in a saucepan.
Heat gently until sauce starts to thicken.
Stir in the Amarula liqueur.
Season to taste with Robertsons salt and pepper.
Serve with the sliced fillet.