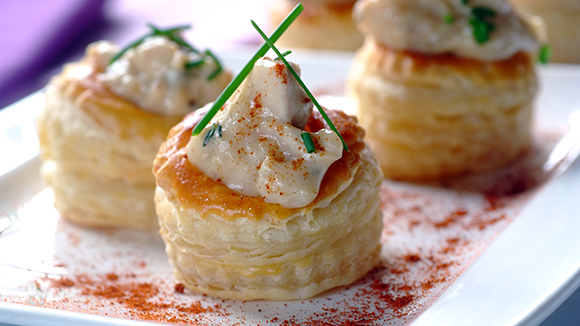 Chicken and Herb Vol-au-Vents
This easy recipe for Chicken and Herb Vol-Au-Vents provides a new twist on an old family favourite. You're in for a real treat!
Recipe serves

2-3

Preparation time

30 minutes

Cooking time

40 minutes
Ingredients
30 ml Olive oil
1 onion, finely diced
1 tsp Robertsons Thyme
1 KNORR Chicken a'la King Dry Cook-in-Sauce
1 Packet ready-made puff pastry
300 g Chicken fillets, diced
1 Clove garlic, crushed
250 ml Milk
1 Egg, beaten
Robertsons Salt and Pepper to taste
Method
In a pan heat the olive oil and fry chicken fillets.
Add the onion, garlic and Robertsons thyme, cook for a few minutes until onions are soft.
In a separate pot heat milk and add KNORR Chicken a'la King Dry Cook-in-Sauce.
Boil until it thickens.
Add milk mixture to the chicken mixture.
Check seasoning.
Vol-au-vents: Using pastry cutters, cut two circles 8cm in diameter.
Brush one with egg wash.
Cut a 5 cm diameter circle out of the centre of the second one to obtain a ring.
Place the ring on top of the first circle, edge to edge.
Place on a tray lined with baking paper, refrigerate.
Repeat with the remaining pastry.
Brush slightly with egg wash.
Bake in a preheated 220°C oven for 25-30 minutes.
Cool, then push down the centre that has puffed up.
Spoon filling into the centre of the cases and serve with a crisp salad.