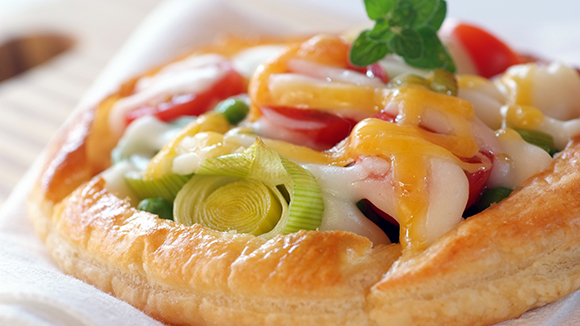 Cheesy Vegetable Tartlets
Enjoy a colourful meal with this vegetarian recipe for Cheesy Veggie Tartlets. The best part? The recipe requires just 1 hour of your time!
Recipe serves

4

Preparation time

15 minutes

Cooking time

40 minutes
Ingredients
12 Cherry tomatoes, halved
200 g Smooth cottage cheese
1 tbsp Olive oil
15 g Stork Margarine
1 Large leek, finely sliced
1 Egg, beaten
1 packet Puff Pastry
100 ml Peas, steamed
1 KNORR Classic White Sauce, prepared and cooled
100 ml Cheddar cheese, grated
Method
Preheat oven to 200°C.
On a lightly floured surface roll out the pastry and cut out 4 circles, about 15 cm in diameter.
Mark a rim about 1cm in from the edge, taking care not to cut all the way through the pastry.
Brush with egg.
Place on greased baking trays and bake for 10 minutes.
Gently press down the puffed-up centres.
Meanwhile, in a pan over a low heat gently cook the leek in margarine and oil, stirring frequently, for 12-15 minutes or until soft.
Spread the cottage cheese in the centre of the pastry circles and top with the leek mixture.
Put the tomatoes and peas on top, then pour the cooled sauce over.
Sprinkle with cheese.
Bake for a further 10-12 minutes.