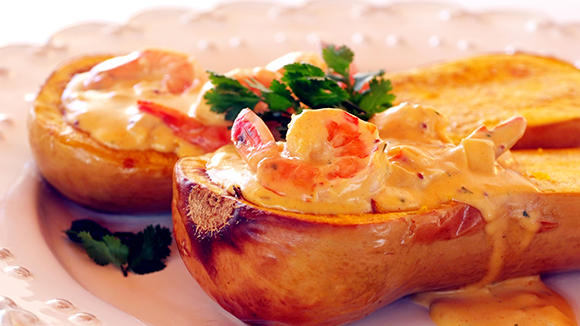 Baked Butternut Stuffed with Creamy Brandied Prawns
Prawns, brandy and cream turn this easy recipe into a taste sensation - perfect for any dinner party or for a hearty family meal!
Recipe serves

4-6

Preparation time

15 minutes

Cooking time

60 minutes
Ingredients
2 Medium butternut
30 ml oil
1 kg Prawns, peeled and deveined
1 Pinch Robertsons Salt and White Pepper to taste
1 Juice of 1 lemon
30 ml Stork Margarine
2 Onions, chopped
10 ml Robertsons Paprika
5 ml Mustard powder
90 ml Brandy
1 KNORR Creamy Garlic Sauce
250 ml Cream
125 g Cream cheese, softened
Method
Cut butternut in half lengthwise, remove seeds.
Rub the outside with 15 ml oil.
Place on a baking tray.
Bake for 1 hour in a preheated 160°C oven.
Season the prawns with salt and white pepper, then squeeze lemon juice over.
In a pan heat margarine and remaining oil and, fry onions until softened.
Add the prawns and sauté until pink.
Add paprika and mustard, remove from heat before adding brandy.
Light the brandy and return to the heat when the flame is out.
In a bowl mix the KNORR Creamy Garlic Sauce packet contents with the cream.
Add to the prawns.
Stir over low heat until thickened.
Add the cream cheese, continue stirring over low heat until the cheese is melted.
Place the cooked butternut on a serving plate.
Pour the creamy prawns into the butternut cavity.
Serve with basmati rice.