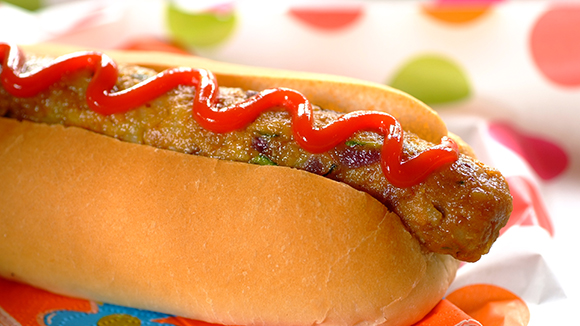 Hot Dogs with Chickpea and Vegetable Sausages
Here's a great solution to healthy holiday food for the kids and they're fun to make.
Recipe serves

8

Preparation time

20 minutes

Cooking time

15 minutes
Ingredients
15 ml Oil
1 Red onion, peeled and finely chopped
2 ml Crushed garlic
1 Baby marrow, grated
400 g Can chickpeas, drained
2 Slices seed bread
8 tsp Crunchy peanut butter
1 Large egg yolk
1 KNORR Brown Onion Gravy
1 tbsp Robertsons Mixed Herbs
375 ml Evenly diced, steamed vegetables (eg: potato, butternut, turnip)
Oil for frying
Method
In a pan heat oil over medium heat.
Sautè onion, add garlic and baby marrow, cook for 5 minutes.
Place onion and baby marrow into a sieve and press out any liquid.
Place into a large bowl.
Place remaining ingredients except the steamed vegetables and oil into a food processor and process until rough.
Stir the vegetables into the processed mixture, then add to the baby marrow mixture.
Refrigerate the mixture for 2 hours.
Roll the mixture into sausage shapes to fit into hotdog rolls.
Chill for a few minutes in the refrigerator.
In a frying pan heat oil.
Fry sausages gently (ensuring they do not break up) until golden brown.
Serve in hotdog rolls and top with grated cheese if you wish.
OPTIONAL: Shape into smaller sausages to fit into cocktail rolls.
Great for picnics and family outings!